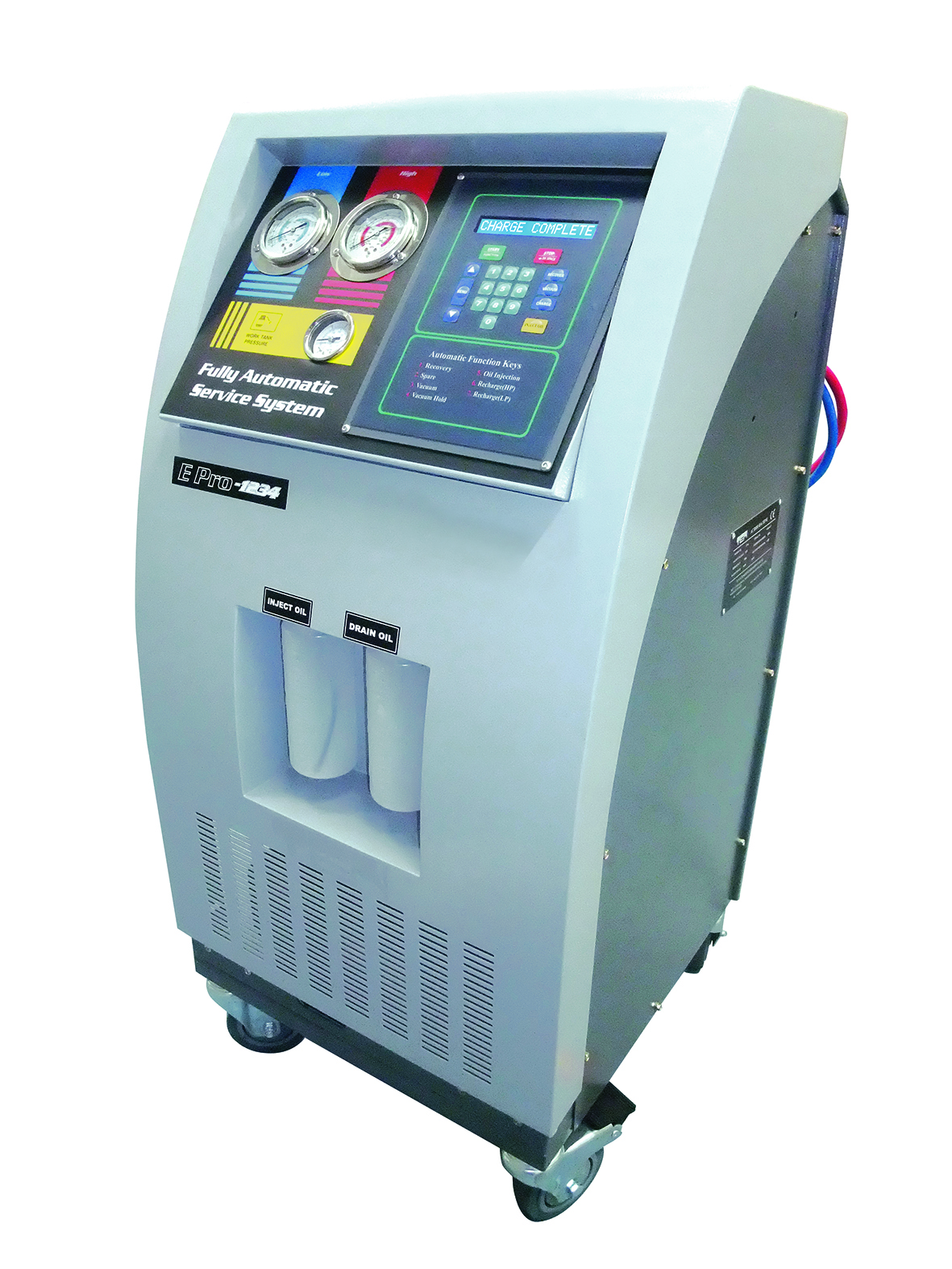 The E Pro is a new compact 'fully automatic' Professional Air Conditioning Service Centre available in either R1234YF or R134A variants with an optional assigned and badged EV & Hybrid Model. The new E Pro 'Essentials' Range has been developed to fulfil most automotive air conditioning service applications, applying tomorrows testing technology to suit today's budget...
EV & Hybrid Model

R1234YF Refrigerant

R134A Refrigerant Option

Simple Menu Operation

Automatic Purging
E Pro - 1234YF (or 134A) 'Essentials'
Recovery/Recycling, Evacuation, Oil Injection & Refrigerant Recharging are automatically performed in a simple programming pre-set routine or individually, as required.
Fitted with a large 12kg reservoir tank the E Pro range also comprises of a heavy duty compressor for vehicle refrigerant recovery and a high flow vacuum pump for efficient moisture and contamination removal on large A/C vehicle systems.
EV & Hybrid Model


An 'essential' addition to your Electric Vehicle Work Station, the E Pro Service Centre can be assigned and badged for EV & Hybrid Vehicles to ensure that only high dielectric type oil is injected into the A/C System & High Voltage Compressor.
Specifications:
HP, LP Gauges (oil filled pulse free)
Control Panel Keyboard with Bright LED Display
| | | | |
| --- | --- | --- | --- |
| Refrigerant/Connection Port: | R1234YF or R134A | Recovery Rate: | 200-240 g/min |
| Power Source: | 230V 50/60 Hz | Vacuum Rate: | 90 L/min |
| Max Operating Temp: | 5 -40°C | Charge Rate: | 1200 g/min |
| Work Tank Capacity: | 12kg | Filter Drier Capacity: | 68 Kg |
| Pressure Gauges: | Pulse Free | Dimensions: | 1190 x 610 x 640 mm |
| Service Hoses: | 2.50 Meters | Weight: | 76 Kg |